Women view money and wealth differently from men. Generally, women regard money as a means to improve their lives and their family's lives, to ensure security, and not seek to accumulate money for its own sake. Women investors tend to focus more on long-term stability.
Let's take a look at six gender differences when it comes to Investing.
1. Men are more likely than women to be investors.
Women are active managers of their finances, but they do invest less. On average, women will keep as much as 71% of their assets in cash while men hold 60%.
Based on a survey by Ellevest of Millennial women, the majority (53%) of respondents do have an emergency savings fund covering three to six months of housing and necessities. In addition, the strong majority (70%) of the respondents are reviewing their bank accounts once per week or more.
When it comes to investing, gender can impact long-term financial security. This is especially true since women, on average, will live longer than men. When considering a career spanning at least 35 years and depending on salary and market performance, this gap in investment allocations can result in excess of $1 million.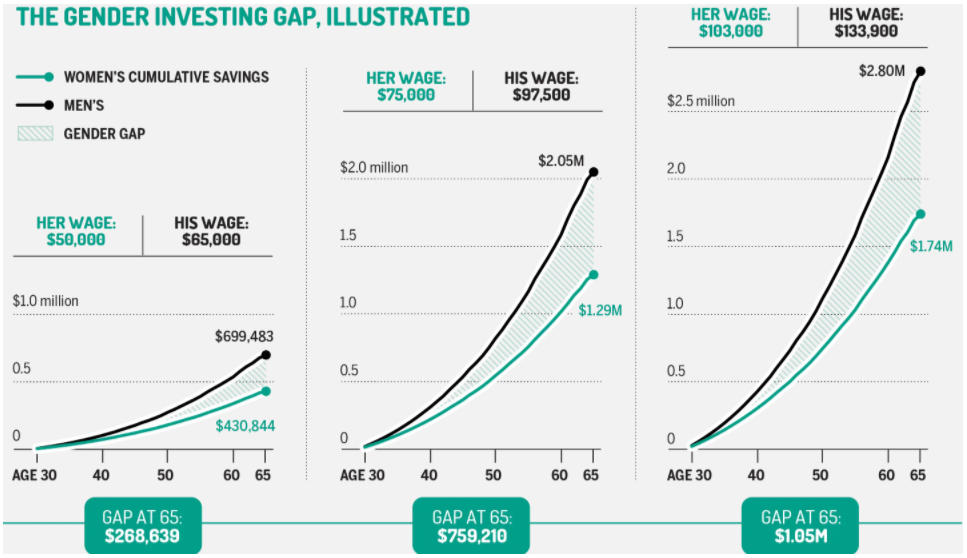 [Source: Ellevest 2018 Money Census. Projections based on the wage gap, typical asset allocation strategies and a gender specific salary curve.]
2. Women are less confident about investing.
Unfortunately, the gender gap still exists between men and women when it comes to feeling confident about investing. In fact, based on two recent surveys:
• 52% of women say they are confident about investing versus 68% of men.
• 56% of millennial women don't invest because they are too worried about the outcome.
• 1 in 4 millennial women find investing to be a "total mystery".
If you're intimidated by investing or have questions about how to get started, reach out to the team at First Bank Wealth Management.
[Source: Women and Financial Wellness – Merrill Lynch 2019; SoFI and Levo League Study 2018]
3. Women earn higher returns.
It's interesting to note that when women do invest, they typically earn higher returns. A study from Fidelity Investments in 2016, based on data from more than 8 million clients, showed that women performed better than men by 40 basis points. That does not sound like a lot, but when you combine that 40 basis point outperformance with women having a higher savings rate of 40 basis points (in IRAs, brokerage accounts and 401K plans at work), that nearly 1% basis point difference can have a significant impact over time.
The potential difference in a retirement balance at the age of 67, based on the women's higher savings rate and higher return, is over 15%. That is significant.
4. Men are often more comfortable with risk.
Unlike males, women often have their savings allocated in a more age-based distribution of investments. In fact, looking specifically at retirement savings accounts held at Fidelity over the last three years, the percentage of women allocated appropriately for their age has increased by approximately 40 percent. Furthermore, fewer women have their savings fully invested in equities than men (which could represent too much risk and not enough diversification); and women are more likely to invest in target date funds, ensuring they are well diversified.
5. Women are often more patient investors.
Women are typically more of a "buy and hold" investor. Meaning, women typically invest into something and hold onto it while keeping the long-term view in mind.
In fact, men are 35% more likely to buy or sell stocks than women. What's more, single women trade 27% less frequently than single men.
6. Women are more open to seeking investment guidance.
Women ask for directions! According to a survey from Wells Fargo in 2018 on Women & Investing, TWICE as many women as men say they want financial advisors to educate them about the principles of investing. In a Fidelity Women and Money Survey 2016, 90% of women want to learn more about financial planning and investment choices. The desire for financial education is there but it doesn't necessarily translate into action. Women are less likely than men to seek out a financial advisor. It's estimated that six out of 10 women have never consulted with an experienced financial advisor.
At First Bank Wealth Management, there's no one-size-fits-all investing approach. We take the time to understand your personal goals and risk comfort levels as we help you shape your financial plan and investment portfolios. If you want to get started on the path to investing, schedule an appointment with a First Bank Wealth Management trusted advisor today.

By: Carla Jackson
Carla Jackson, Senior Vice President and Senior Portfolio Manager for First Bank Wealth Management, works with individual clients, families, and charitable foundations as an investment advisor for their trusts and investment management accounts. Carla may be reached by phone at 314-889-1047 or via email at

[email protected]

.