A dedicated, 100-year family history of ownership is an asset not many banks can tout. This culture of long-standing family ownership certainly sets First Bank apart from its counterparts in the financial services industry. Not only are we strengthened by experience – boasting a seasoned team of experts – but we're also steadied by the heritage of origins dating back as far as 1906.
That's when the First Bank story began…
In 1906, Creve Coeur Farmer's Bank was established to help residents of a small, farming community near St. Louis reach their financial goals. Creve Coeur Farmer's Bank became Creve Coeur Bank, then First Missouri Bank in 1973, and finally, in 1986, it became First Bank. Over 100 years later, there have been many changes to the bank, the communities in which it serves, and the financial services industry as a whole.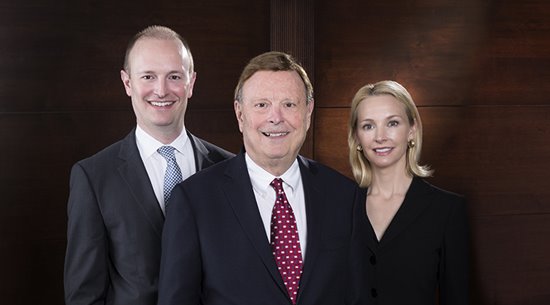 A Legacy that Surpasses Generations
First Bank's family heritage first began in 1910 when William F. Dierberg became president. As the bank's success continued under his leadership, it began to grow. Clients enjoyed the family-style approach to personalized banking services. Important core values started taking shape as clients realized the value of a banker as a businessperson, a partner, and a friend. In 1945, William Dierberg realized the importance of family heritage and handed over the reins to his son, William F. Dierberg, Jr. He succeeded his father and began the second generation of independent, family ownership. The unwavering leadership and commitment to the client held steadfast when, in 1966, the generational handoff occurred once more, this time to James F. Dierberg.
Stability and Growth
James Dierberg grew the bank's presence and footprint by acquiring and building new branches. The bank continued to prosper and grow. Clients recognized First Bank as a strong, independent bank proactively serving their growing financial needs.
The First Bank Expansion
In 1981, First Bank saw the first of many grocery store branches and expanded into Illinois. The bank assumed its current-day name, First Bank, in 1986. Expansion continued in 1995 when First Bank began operating in the California markets. Realizing the need to serve clients with brokerage options, First Bank, along with its affiliate, opened a full service brokerage operation in 1997. By the year 2000, the bank grew its assets and expanded its branch network. Today, you'll find First Bank a financially-solid financial institution with over $6.8 billion in assets, nearly 70 retail locations, and full-service mortgage, wealth management, and business banking services. First Bank Mortgage continued to grow and expanded its footprint into Nebraska and Kansas. Most recently, First Bank launched the Center for Family-Owned Businesses to offer tailored resources to serve the unique needs of family business members.
Growth and Family Leadership
We certainly didn't grow to be one of the largest, family-owned banks by standing still. This still holds true today. Throughout our history, one constant remains: First Bank – and the communities in which we serve – is woven within the very fabric of the Dierberg family legacy. Now, in its fourth generation of family leadership, James Dierberg's son, Michael Dierberg, now serves as Chairman of FB Corporation and President of First Bank. Michael embraces and embodies the core values of First Bank with a diligent focus on exceeding client expectations, maintaining First Bank as an independent, family-owned bank, while pursuing innovative ways to support the evolving landscape of financial services and banking.
First Bank: Our Vision is Clear
At First Bank, our vision is clear. As a family-owned business ourselves, family-owned businesses hold a special place in our hearts and we'll go the extra mile to partner in their long-term success. Although we strive to serve all of our clients to the best of our abilities, privately-held and family-owned businesses are a segment we feel we can uniquely serve. For now and well into the future, we're looking ahead to find every avenue we can to help nourish and support family-owned and privately-held businesses, regardless of their size or tenure.

The Dierberg family, along with First Bank's President and Chief Executive Officer, Mikel Williamson, remain committed to continuing to grow and innovate to become the bank of choice for families and family-owned businesses for now and well into the future. Click to read the Story of Our First Bank Center for Family-Owned Businesses.