In 1910, in a small farming community near St. Louis, our vision of serving local, family-owned enterprises and their families took root. Over 100 years and four generations of family ownership later, we're still serving family-owned and privately-held businesses with an energy, fervor, and commitment that is unrivaled in the industry.
As a multi-generational, family-owned business, we've gained first-hand knowledge and experience in addressing the unique challenges family businesses encounter as well as recognizing the importance of stability, progression, and long-term perspective. In 2016, Michael Dierberg succeeded his father, James F.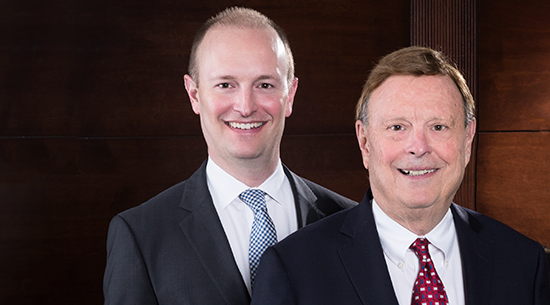 Dierberg, as Chairman of FB Corporation and fourth generation family leader at First Bank. Michael continues the family legacy of foresight, innovation, and strategizing for the future.
Although family businesses face common issues and opportunities that are unlike their publicly-traded counterparts, many feel they must address them in isolation. The idea for First Bank's Center for Family-Owned Businesses was born out of our own experiences as a family-owned business and the knowledge that many of our clients don't know where to turn or what resources are available to address common issues among families.

In 2021, First Bank launched the Center for Family-Owned Businesses to provide family businesses the insights, solutions, and networking opportunities they need to be successful, as well as the solid framework necessary to continue building their family business legacy. A long-term, trusted member of the First Bank family, Joe Ambrose, Executive Director of the First Bank Center for Family-Owned Businesses, stepped up to lead this important initiative. In 2022, we added a valuable member to the team and Ed Hart joined as the Director of the Center for Family-Owned Businesses to serve family businesses in California.
At the First Bank Center for Family-Owned Businesses, we understand it's not a one-size-fits all approach and exist to holistically support family businesses in not only their day-to-day operations but also with long-term, strategic succession planning. In addition to webinars, a symposium, roundtable discussions, and in-person networking opportunities, the Center for Family-Owned Businesses also provides other value-added services, including consulting, trusted guidance, insights from industry thought leaders, and an online repository of content and resources that can be found at www.first.bank/familybusiness. In 2022, the Center conducted its inaugural First Bank Family Business Survey in order to stay apprised of the specific needs and challenges of family businesses and to help guide our content and events. Like First Bank, the First Bank Center for Family-Owned Businesses continues to evolve with current trends and as the needs of our clients change.
The embodiment of the Dierberg family's commitment to the success of family businesses and their families is made evident with the First Bank Center for Family-Owned Businesses. We're building enduring relationships with like-minded family businesses, while becoming the go-to resource and conduit of information on the unique issues facing family businesses today.
Proudly, the First Bank Center for Family-Owned Businesses will continue to support family businesses, families, and their employees now and for generations to come. Rest assured, we're just getting started.
As we often say, no business operates with an eye toward tomorrow quite like a family business. Let's look ahead.