Nearly every business leader knows that a contactless debit card is a fast, secure way to make in-person purchases and online payments. But there are many other under-the-radar advantages.
Mobile Card Controls
SecurLock Equip: Take control of how, when, and where your debit card is used. You have the power to protect your debit card. Simply download the SecurLOCK Equip app from GooglePlay℠ or the AppStore™
Employee Access: Control access for your employees by giving them a card with the transaction access and limits that you set.
Mastercard Benefits
Tap and go wherever you see the contactless symbol.
Purchase Protection
Travel Assistance
Identity Theft Resolution
Roadside Emergency Services
And more. Click for the Guide to Benefits.

Use With Confidence
Protecting your personal information is our No. 1 priority. You can use your First Bank Debit BusinessCard™ confidently knowing that you're protected in the event of unauthorized use.
Fraud monitoring: Our sophisticated technology platform is designed to help block potential fraud if abnormal patterns are detected. If we see something unusual, we move fast to help keep your card — and your personal information — safe.
Mastercard Zero Liability Protection**: If your card is lost or stolen, First Bank will credit fraudulent charges made with your card back to your account.
Mastercard Identity Check™: Provides peace of mind when making purchases online. When using a Debit BusinessCard at participating online merchants, you may be prompted to enter a one-time passcode to authenticate your identity. This passcode will be sent to a phone number or email address you have on file with us.
First Bank is a proud member of the Allpoint® Network – over 55,000 surcharge-free ATMs!
First Bank Debit Mastercard® holdersˡ now have access to over 55,000 surcharge- free Allpoint Network ATM locations around the world***, including 40,000 in the United States. In fact, one out of every 12 ATMs in the U.S. now participates in the Allpoint Network. This means your cash is never far away! Plus, Allpoint+ ATM locations allow cash deposits up to $1,000 at select locations in the U.S.
Here are just a few participating retailers with Allpoint ATMs: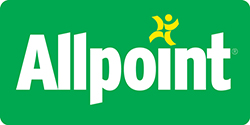 Target™
CVS Pharmacy™
Circle K™
Many, many more!
How do you find an Allpoint ATM near you?
Finding an Allpoint ATM is easy! Access to Allpoint's directory can be found on our Locations page as well as our "First Bank On the Go" and "First Bank Biz to Go" mobile banking apps.
Debit Mastercard Businesscard® FAQs
SecurLOCK Equip is a mobile app that allows our business clients to control how, when, and where your Business Debit Card is used. It is a simple and secure way to manage and monitor your payment transaction activity. SecurLOCK Equip can help keep your First Bank Business Debit card safe and provide instant notifications whenever your card is used. View the SecurLOCK Equip App for Business Video for more details.
No. It is provided to you at no cost so you can have more control over your card.
You can also call 800-760-2265 and one of our First Bank Service Center representatives will be more than happy to assist you.
* Certain terms, conditions and exclusions apply. For complete coverage terms and conditions call 1-800-MASTERCARD (1-800-627-8372) for assistance. Refer to the Mastercard® Guide to Benefits for more information.
**Conditions and exceptions apply. Please refer to mastercard.us/zero-liability.html
Mastercard is a registered trademark, and the circles design is a trademark of Mastercard International Incorporated.
***International ATM withdrawals may be subject to the International Transaction Service Charge. Please refer to the Schedule of Fees for more information.