Paying bills does not have to be a hassle. That is why we created a free, safe, and convenient way to make bill payments from anywhere! You can access Bill Pay from First Bank's eBanking system or from your First Bank On The Go mobile app.

Let's Get Started!
Start by accessing our eBanking system. Once you are enrolled, you will have the option to select which account you will be paying and which First Bank account will be your default account for making payments in Bill Pay.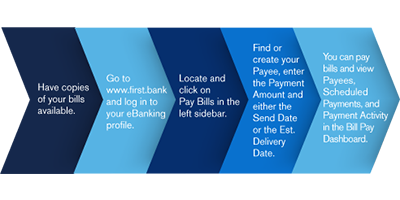 With Bill Pay, you can:
Schedule recurring bill payments.
Set bill pay reminders for recurring bill payments.
Review any pending payments.
Pay bills from the mobile app on your mobile device.
Receive your bills in an electronic format.
eBills
eBills are electronic versions of paper bills. Certain bills have the option to be paid through eBill, a free service that allows you to receive your bill directly within Bill Pay, so that you can view and pay immediately. An eBill arrives from a biller (where available) into Bill Pay the same way a paper bill arrives in your mailbox. This can be selected when you are in the Pay Bills section. You will receive email notifications every time you add an eBiller, when you need to pay an eBill, and when your eBill arrives.
Bill Pay FAQs
Choose Pay Bills or Bill Pay Dashboard from the menu and begin setting up your bill payments and making payments right away!
Yes! First Bank offers our clients the Bill Payment Service (also known as Bill Pay) at no charge. Quick Pay payments may be subject to an additional fee.
Select Add Payee from the Bill Pay Dashboard or the Add Payee section of Pay Bills.
If the payment method is an electronic payment, the payment amount will be debited from your account on the Send Date.
If the payment method is a paper check, the payment amount will be debited from your account on the date the check is presented to First Bank for payment and clears your account.
The cutoff time for payments initiated in Bill Payment is 3:00 p.m. CT on each Business Day.
Review payment information in the Payment Activity section of Move Money.

If the Est. Delivery Date has passed and the payee has not received the payment, please follow the steps below for resolution:
For electronic payments, contact us at 800-760-BANK (2265) for assistance. An agent will work with our Bill Pay team to locate the payment and provide proof of payment to the payee.
For check payments, please verify the mailing address for the payee. If the payment is lost, a stop payment can be placed and a new payment can be created. Contact us at 800-760-BANK (2265) to request the check stop payment or utilize Stop Checks in eBanking. A Stop Payment Fee may apply.