Core values are what drive our daily decisions. From how we interact with others to the causes we support, everyone is motivated differently. This can also be the case for businesses.
According to thebalancecareers.com, core values are traits or qualities that represent an organization's highest priorities, deeply-held beliefs, and are the heart of an organizationˡ.
A company's core values often signify how the organization and its employees will conduct business as well as how it will serve its clients and the community. Core values help guide a business, drive the strategy of the business, and, ultimately, help an organization differentiate itself in the marketplace. Core values can even help attract and retain top, like-minded employees.
In fact, nearly half of all job seekers wish to apply and/or work at an organization that shares the same core values as them, while having a positive impact on society². They want to know their employer is making a difference in the lives of those around them.
Not only does a business's philanthropic support offer employee engagement, it can also provide a reputable public image. One estimate suggests that 85% of consumers have a more positive image of companies that support charitable causes³. It's not only important that employees understand and relate to your company's core values and beliefs, but also your clients.
Watch the webinar, "The Role of Philanthropy in Family, Business, and Community."
Clients, especially Millennials, wish to engage with organizations with similar values. They want to feel good about the companies they are working for, doing business with, and supporting.
In addition, there are a growing number of business leaders that evaluate the success of their business beyond just profits. Rather, they define success by their commitment to the communities in which they serve, in a collaborative environment that supports empowerment and purpose. They tend to measure their success by a "Give to Grow" approach to philanthropy while creating a thriving, internal culture that's dedicated to giving and providing exceptional services.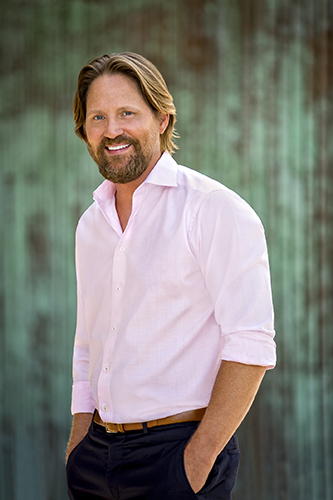 Charles Antis, founder and CEO
Antis Roofing and Waterproofing
Charles Antis, founder and CEO of Antis Roofing and Waterproofing, a first generation family business, is one such business leader. "The more we give, the more we grow," he said. Now, over 30 years and nearly $20 million in annual sales later, that philanthropic mindset and approach to leading his business has really paid off.
Antis started Antis Roofing and Waterproofing as a young entrepreneur in 1989. At that time, he had responded to a call to repair the roof of a single mother's home with seven small children. When inside, he could detect the distinct smell and visual signs of mold and mildew everywhere in the home, including the children's rooms. He quickly realized the family with a modest, single income could simply not afford the price of a new roof. Although he was just starting out himself, he was able to scrape together enough volunteers and funds to provide a free roof for this family.
"The gratification of helping this family prompted my desire to give," he said. "This family needed me and I was there to help provide shelter for them." Antis didn't stop his passion for giving back with just one roof.
Since 2009, Antis Roofing and Waterproofing has donated roofing installation to every Habitat for Humanity of Orange County, CA home. That's over $1.5 million in donations of roofing installations! "When asked if we're able to help causes near and dear to us, we've found the magic of not saying, "no, we don't have time" he said, "but rather we say, 'maybe'." He encouraged other like-minded business owners to do the same.
Antis explained that proper shelter, including a safe roof, goes on to impact the life of those families in more ways than just housing. "Approximately 75 - 80% of the children in these homes are now going on to finish post-secondary education." Without a stable, safe home, they otherwise may not have been able to continue their education.
Antis boasted that employees of Antis are often seen giving high-fives in the office for no reason. "They sleep good at night knowing where our organization stands and who we brand ourselves with," explained Antis. Antis Roofing and Waterproofing partners with many reputable organizations in and around the local area, including Ronald McDonald House Charities, Habitat for Humanity of Orange County, and the American Red Cross, just to name a few. "At our basic core," said Antis, "we're designed to give." Antis explained that if we all focus on things that matter in the community and look at the long-play with everything that we do, it will really pay off in tangible ways.
"When you know why you exist outside of just making money," expounded Antis, "it allows not only the leaders, but everyone in the company to make mindful decisions on what's going to represent the brand the best. Small acts of kindness given with great love, together will change the world."
Read more at, "What Legacy Will Your Family Business Leave?"
To begin the discussion with other like-minded family business leaders regarding developing a philanthropic set of guiding principles for your organization, reach out to First Bank's Center for Family-Owned Businesses. Consider registering for an upcoming family-business focused webinar or event!
Sources:
ˡThe Balance Careers, Susan M. Heathfield, "Core Values are What You Believe," February 26, 2021
²Harvard Business Review, Natalie Baumgartner, "Build a Culture That Aligns With People's Values," April 8, 2020
³Cision, PRNewswire, "Small Business Charitable Giving Produces Big Impact on Communities Nationwide," January 18, 2019