For family businesses, legacy can mean the succession of business and family assets from one generation to the next. In fact, Merriam-Webster defines "legacy" as: a gift by will, especially of money or other personal property, and/or something transmitted by or received from an ancestor or predecessor or from the past. It's a common misconception, however, that legacy only equates to financial terms in a family business model. That's not always the case.
Yes, it's true that family businesses are a significant component of the worldwide Gross National Product (GNP) and also provide a majority of job opportunities in the U.S. That, however, is not their only contribution to society. In fact, over 90 percent of family businesses feel what sets them apart from non-family organizations is their long-term perspective and contributions to their communitiesˡ.
When you think of your own family business or those that you buy goods or services from, it's common for family business owners to be the first to be financially supportive of the grassroots organizations within their community. They're often ready to build a parade float for the annual fair or picnic, support the little league team, or host a food drive for the local food pantry. In addition, family businesses are always ready to overcome obstacles to be there for the community in which they serve. In short, they're the heart and soul of our communities.
A recent survey proved the trust and leadership that communities have in family businesses. Approximately 67% of survey respondents said they trusted family businesses versus their public counterparts. This makes family businesses the most trusted sector of the community.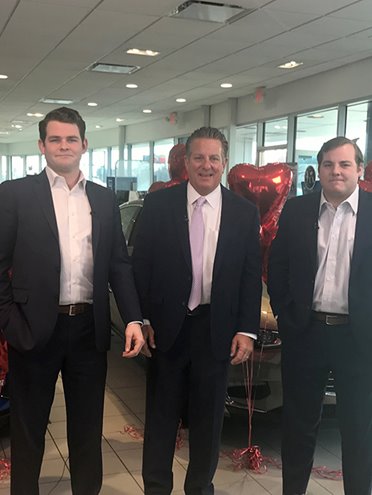 Sam Londoff, John Londoff, Jr., and
John Londoff III
It's because of this trust and the strong relationships developed by family businesses, that most family business owners, as well as their successors, are driven to leave a lasting legacy to a much higher degree than their non-family business counterparts. They not only approach their business with a long-term mindset for their employees and family members but also to build a long-standing, sustainable business that will be there for its clients and communities for years to come.
When examining multi-generational family businesses, you get a sense of how the legacy focus of a family business often changes or evolves through the generations. It's not uncommon for the first generation to primarily focus on building a profitable legacy business. This is the legacy the entrepreneurial originator wants to build in order to leave the business to the next generation. This is often accomplished by working long hours, possessing a spirit to succeed, and determination to win the long game.
Conventional thought has centered on the idea that the succeeding second generation was meant to only maintain, or preserve, that original legacy. Ultimately, leaving the legacy of the primary originator unchanged. That's simply not the case.
Recent studies suggest the second generation will typically expound upon the roots of the founder's legacy and then adjust based upon the challenges or aspirations of that time. Quite often, successors are eager to redefine or refocus the family business legacy into something unique to them. That may include an expanded business model or additional locations, differentiation in the marketplace, technological advancements, new initiatives, or perhaps even a larger philanthropic presence.
Many successors who work in family businesses wish to maintain the core roots of the organization while adjusting its focus; therefore, redefining its legacy.
One such family-business began its multi-generational legacy in 1940 as a Plymouth dealership that was situated on the second floor of the family's bowling alley and bar. Over 20 years later, John Londoff, Sr. founded his Chevrolet dealership on Dunn Road in Florissant, MO in what is still known today as Johnny Londoff Chevrolet. John Londoff, Jr., Owner/President and second-generation owner of Johnny Londoff Chevrolet said, "When I started alongside my dad in the business at a very young age, I learned the value of hard work and the importance of building a long-standing legacy."
Londoff also learned from his father that the family business was much like having a child that was to be nurtured and protected. His father often reminded Londoff that he built the business from the ground up with his own two hands. "Dad was my absolute hero. We certainly share the same passion for our family business."
Londoff commented that when he succeeded his father in the business, he did, in fact, do some restructuring, but did not reinvent the wheel. "We had great people at our organization and still do," he said. "My focus for the business was more on growing our dealership and receiving recognition. I worked six days a week in order to do so. I signed us up for every Chevrolet conference in Detroit, Michigan available. My dad, however, did not like to attend those. It wasn't his thing. I, on the other hand, really wanted us to be recognized by Chevrolet. Why? Well, I love to win."
And, win he did. The Johnny Londoff Chevrolet dealership has consistently been a top-ranking dealership among its peers in St. Louis.
Londoff reflected on a time when the majority of business was done on paper and advertised in newspapers. Of course, in today's environment, the Londoff family promotes the dealership digitally and has expanded its online presence.
Poised for another generational transition in the future, Londoff's two sons, John Londoff III, Inventory Manager, and Sam Londoff, New Truck Manager, are actively involved in the day-to-day operations of the family business. "My kids help keep me grounded," he added. "It has been really helpful that they've grown up in the business and are slowly expanding their roles in the organization. They're extremely natural at making connections, working with people, and resolving conflict." Londoff reflected on his journey. "I'm extremely blessed. I was able to work with my dad in the business and now get to work with my kids," he said. "It's amazing to watch their growth as leaders both in the business as well as outside the business."
A trusted member of the St. Louis community, the Johnny Londoff Chevrolet family has taken great pride in supporting local, charitable organizations since it first opened its doors. Much like his father, John Londoff has carried the family legacy forward and has remained involved in the community. "Over 60 years ago, dad started the Johnny Londoff Chevrolet Scholarship Foundation to serve the St. Louis area. We've continued that tradition," Londoff added, "but have also expanded into serving other philanthropic areas of our community."
With effective philanthropy, family businesses have the opportunity to give back. Watch a
First Bank Center for Family-Owned Businesses webinar on demand.
After Londoff's sister was born in the 1960s with Down syndrome, the Londoff family made it part of their mission to support organizations that served this then-underserved group. "I'm proud to serve on the board of St. Louis ARC." St. Louis ARC is a St. Louis-based organization that provides a lifetime of high-quality services and advocacy to people with intellectual and developmental disabilities. In addition, the Londoff family supports the Ronald McDonald House, The Ollie Hinkle Heart Foundation, Matthews-Dickey Boys & Girls Club, and Backstoppers, Inc. "I'm very passionate about supporting law enforcement," he said, "through the great work of the Backstoppers program."
Crafting a multi-generational legacy in a family business can only be made possible with discipline, flexibility, hard work, strong leadership, and building solid relationships. "I'd encourage other family business owners to reach out to peers in their industry," Londoff commented. "Learn how they not only passed along their business but also their passion."
Having the right people and relationships in your corner will help you to not only preserve your family's legacy, but also help you redefine it. To find out more about how First Bank's Center for Family-Owned Businesses can help your family business thrive, contact us.
Sources:
• Grand Valley State University, Family Firm Facts, Family Enterprise USA, February 12, 2021 (last update)
• Harvard Business Review, Why the Second Generation Can Make or Break Your Family Business, by Dennis T. Jaffe and James Grubman, May 19, 2020