At its heart, our First Bank Debit Mastercard® is like a long-lasting check that lets you make purchases at the corner store or in distant countries. But it's so much more. It can access cash in a flash, protect you from scam artists, and provide discounts on travel services. And the list goes on from there.
Accepted at millions of locations that accept Mastercard.
Expedite checking out with digital wallet services or tapping your card at payment terminals when you see the contactless symbol.
Track spending through statements that detail every purchase and ATM transaction.
Spare yourself a lot of hassle with Zero Liability Protection that kicks in if unauthorized use of your card occurs.**
Enjoy 15% discounts on airport meet and greet services.*
Choose Which Card Works Best For You
FLEX Debit Card
Works at millions of locations around the world anywhere Debit Mastercard is accepted. Use your FLEX debit card for everyday purchases at department stores, restaurants, doctors' offices, gas stations, for online shopping, and more. Parents can open joint checking accounts with kids that offer the child their own contactless Flex debit card with "starter features", such as lower daily limits, account alerts/notifications and transfer between accounts.
Onyx Debit Card
Designed to let you experience a higher level of convenience, security and control. With first-rate customer service and access to exceptional features, Onyx also features higher daily withdrawal and spending limits that align with your personal spending needs.
First Bank is a proud member of the Allpoint® Network – over 55,000 surcharge-free ATMs!
First Bank Debit Mastercard® holdersˡ now have access to over 55,000 surcharge- free Allpoint Network ATM locations around the world***, including 40,000 in the United States. In fact, one out of every 12 ATMs in the U.S. now participates in the Allpoint Network. This means your cash is never far away! Plus, Allpoint+ ATM locations allow cash deposits up to $1,000 at select locations in the U.S.
Here are just a few participating retailers with Allpoint ATMs: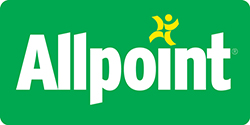 Target™
CVS Pharmacy™
Circle K™
Many, many more!
How do you find an Allpoint ATM near you?
Finding an Allpoint ATM is easy! Access to Allpoint's directory can be found on our Locations page as well as our "First Bank On the Go" and "First Bank Biz to Go" mobile banking apps.
Mobile Card Controls
Turn your card On or Off
Set location, merchant, and transaction controls
Set spending limits
Set usage notifications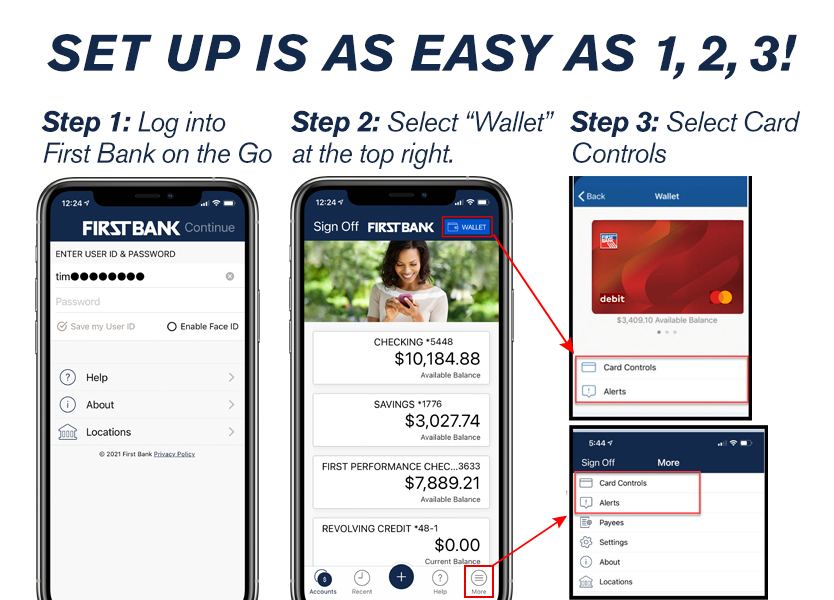 *Certain terms, conditions and exclusions apply. For complete coverage terms and conditions call 1-800-MASTERCARD (1-800-627-8372) for assistance. Refer to the Mastercard® Guide to Benefits for more information.
**Conditions and exceptions apply. Please refer to mastercard.us/zero-liability.html
Mastercard is a registered trademark, and the circles design is a trademark of Mastercard International Incorporated.
***International ATM withdrawals may be subject to the International Transaction Service Charge. Please refer to the Schedule of Fees for more information.