Established in 1960, Hartwig, Inc., is a family-owned, multi-generational manufacturing solutions and support company. "Our mission is to help people in manufacturing control their destiny every day," said Geoff Hartwig, President and third generation leader of Hartwig, Inc. "However, we're also committed to maintaining lasting relationships with our clients, team members, and partners."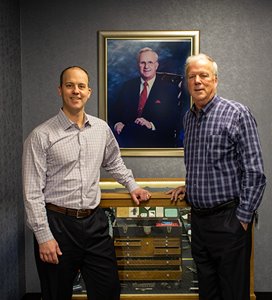 Pictured Above: Geoff Hartwig, President and third generation leader of Hartwig, Inc., and Gary Hartwig, second generation President, stand proudly in front of a framed photo that's displayed proudly at their St. Louis, MO, office of Paul Hartwig, the family's patriarch and founder of Hartwig, Inc.
Hartwig, Inc., headquartered in St. Louis, MO, not only prides itself on being a true manufacturing solutions provider but also supports an exceptional, tight-knit culture for its colleagues. With many of their tenured team members working with Hartwig for decades, approximately 65-75% of their employee hires are referral-based. "We care like family and treat each other like family," Hartwig said. "We celebrate one another's successes and help our team members when they need us." He commented that Hartwig hires talented people who want to work together as a team.

Adhering to Hartwig's unique "16 Cultural Tenants," this organization's aim is to foster trust among team members. "These tenants hold us accountable for having important, honest conversations, while also developing a solid trust with all team members." Hartwig said this horizontal management style and open culture cultivates collaboration to help them work together to find solid manufacturing solutions for their clients. "Ultimately, that's why we're all here," he said.

Celebrating 60 years of expansion and steady growth across the United States for three generations, Hartwig, Inc. is a long-term, multi-generational business client of First Bank. "We've partnered with
First Bank for decades," he said. "We respect long-term, loyal relationships such as what we've developed with Michael Dierberg (Chairman of the Board) and Joe Ambrose (Vice Chairman and Executive Director of the First Bank Center for Family-Owned Businesses) at First Bank. Our trusted relationship with First Bank is a mutually-beneficial partnership."
To find out what First Bank can do for your family-owned or privately-held business, reach out to the First Bank Center for Family-Owned Businesses.