Dovetail Furniture opened its doors 30-years ago, led by co-founders Charlie Shaw and Ted Einstein. Barbara Einstein, Ted's wife, later joined the organization and is credited with helping the company evolve creatively. While Dovetail started as an importer and distributor of home furnishings, over the years it has evolved into designing and developing its own product collection. The products are manufactured through multiple international partners, imported and delivered from a 200,000-square-foot distribution footprint in Los Angeles, CA. Dovetail Furniture does not sell directly to end-consumers, but instead sells through retail stores, e-commerce retailers, and directly to interior designers.
"I joined Dovetail four years ago and was then new to the furniture sector, but had experience in the role," said Dovetail Furniture's Chief Executive Officer Marco Petruzzi, "having been a CEO for 10-plus years at another company. I had gained considerable experience and insights in consumer goods earlier in my career, where I worked for many years in that sector, and dealt with the type of multi-channel matters that are at the core of Dovetail's business model."
In its early years, Dovetail Furniture started as an independent retailer in Los Angeles, then transitioned into becoming a regional wholesaler, mostly focused in Southern California. Later, Dovetail built a national sales presence and started selling nationwide. "The owners did very well growing the business prior to my arrival. The decision to bring me in was based on their self-awareness that the next phase of growth would entail making larger infrastructure investments in facilities, technology, marketing, and talent that could become complicated, expensive, and time-consuming. And indeed, they were," added Petruzzi. "Having said that, in the past four years, we have fine-tuned what we needed to do to become a more relevant, national player, and have now made all of these investments: adding warehouse space, building new offices, focusing our brand message, investing in three large tech platforms that will take us forward for at least 10 or 20 years, and last, but not least, building a great talent team in the process." Having experienced incredible growth for the past three years, these investments have certainly paid off.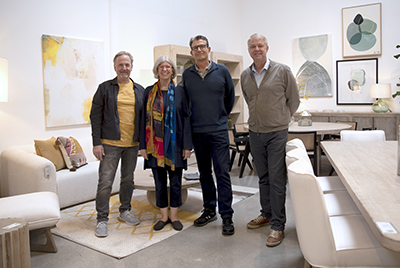 Pictured left to right: Co-founders Ted & Barbara Einstein and Charlie Shaw, and CEO Marco Petruzzi
"We've always been a "product-first" company," said Petruzzi. "Therefore, at our core, we continue to invest in bringing great, new products to market. In fact, we introduce as many as 600 to 800 new products every year!"
A fresh, trendy collection is a must in the furniture and design business as well as the ability to sell at a good value with high levels of service through multiple channels. "While this concept doesn't seem very different from 30 years ago, channels have changed, e-commerce has emerged, and the speed of business has transformed. Consumers now have the ability to see thousands of items online before even entering a store," he added, "which has been a dramatic change for the furniture sector in the past 10 years."
Petruzzi commented that the impact from the pandemic changed everything for all companies, especially those in similar industries as Dovetail Furniture. "We suffered the most disruption than almost any other sector I know, with the exception, of course, of restaurants, travel, entertainment, and hotels, which suffered mightily," he added. "But, we definitely had our fair share of drama."
He added, "At the beginning of the pandemic, all of Dovetail's retail customers shut down; we had input costs (wood, for example) go up 1,000%; we had ocean freight containers go up from $1,700 to $24,000; we had almost all of our factories shut down due to the pandemic; when we finally had product to deliver, there were no truck drivers to deliver our products; and we are still facing labor shortages in the warehouses. I would say that, in general, all the "old models" for how to do business have been thrown out the window and it has been necessary to come up with new ones. Things are starting to settle, but many of these factors are still disruptive today."
Dovetail Furniture recently acquired an art company. With this acquisition, they're proud to have the ability to now offer a well-curated art collection to their customers. "We've also been working on service-level enhancements and have been able to provide better freight and service programs for our trade and design partners," he added. "We have been able to deliver orders faster, supply-chain permitting, than we used to do. Of course, we're all about continuously improving our service, so the work is never done. Finally, our upgrades in tech systems will be most visible to our customers once we launch our new business-to-business website later this fall. We believe we will have a state-of-the-art website that will keep evolving over the years."
The superior collection offered at Dovetail Furniture is their strength and differentiator. "We are one of few companies that has such a broad collection. We are in almost all home furnishing categories, and therefore, we are an excellent supplier to independent retailers that cannot afford to have too many suppliers, each with their own order and freight minimums. We provide an exciting, trendy collection, and allow people to find all they want for residential décor in a single place."
Dovetail Furniture recently joined the First Bank family. "We're excited for our partnership with First Bank," Petruzzi added. "We like that First Bank specializes in family business and that they are also a family business. We look forward to growing with them in the years to come."
To learn more about Dovetail Furniture, visit: Dovetailhome.com.